Dig-health Exfoliating Loofah Back Scrubber for Bath, Long Shower Luffa Sponge with Bar Soap Pocket, Body Sponge Scratchier with Natural Loufa for Men and Women
Large Size: Full size 4″ x 31″ with reinforced handles and bar soap pouch. Made from Natural Organic Luffa.
Two Sided Technology: one side offers a textured surface that deeply exfoliates; the other side features a soft, smooth microfiber surface for delicate skins.
Reveal Glowing Skin from Head to Toe: exfoliating back scrubber is perfect for cleaning the back, neck, shoulders and feet. Fight against breakouts, dry skin, rashes, and other skin problems.
Health Benefits: scrubbing your outer skin surface with loofah back scrubber to increase blood flow. In some cases, body scrubber helps you stabilize blood flow. Regular usage of this loofah sponge helps your blood circulation. Recommended by dermatologists and health professionals for all skin types.
Clean Easily: convenient handle on each end makes it easy to give your back the attention it deserves. Hang up to keep it dry.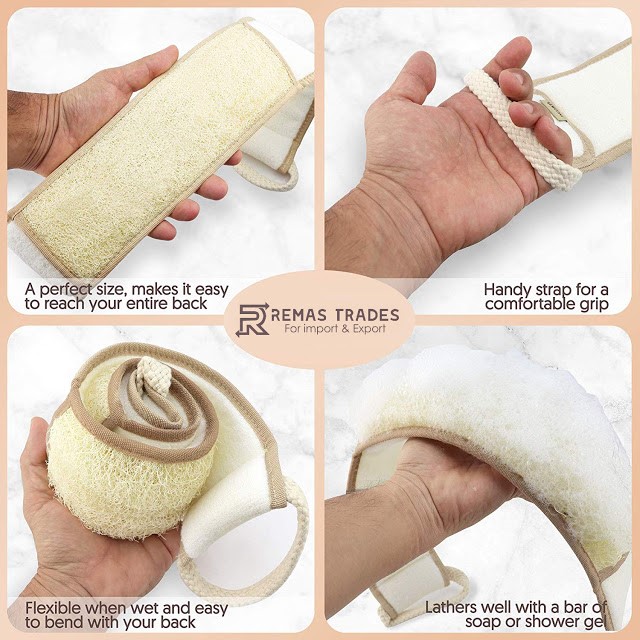 Origin : Egypt
Sizes : 80 Cm × 10 Cm
Material : Loofah + Cotton
Product Code : #107
Sample: Available. Sample Cost Born By Buyer.
Usage : Body – Bath – Shower – Hotel