Egyptian 100% Natural Loofah Sponge, Eco-Friendly Large Premium Quality Removes Dead Skin for Smoother, More Radiant Appearance
One Whole Egyptian Natural loofah. Approximate Size is  50 cm+ . It is shipped compressed flat. Just soak it in hot water for 20 min. to retain it's original shape. Al Remas Trades Egyptian Loofah Planted & Packed in Egypt by Al Remas Trades.
SUPERIOR EGYPTIAN LOOFAH is 100% natural and organic, making it a non-toxic and eco-friendly exfoliating body sponge. Highly sought after for its thicker, more flexible fibers, Egyptian loofah boasts a looser weave for exceptional lather and soapiness.
A TOUCH OF LUXURY for Your Skin – Regular Loofah use also boosts the circulation to your skin to ensure that you are positively radiant like never before.
GENTLE AND HYPOALLERGENIC with no dyes or petroleum-based plastic content, our exfoliating loofah natural sponges for body care may help reduce the appearance of fine lines and wrinkles for a healthier and more radiant complexion. Egyptian loofah boasts a looser weave for exceptional lather and soapiness.
Get Al Remas Trades Organic Natural Loofah Sponge For priceless relaxation and flawless, radiant skin that you deserve.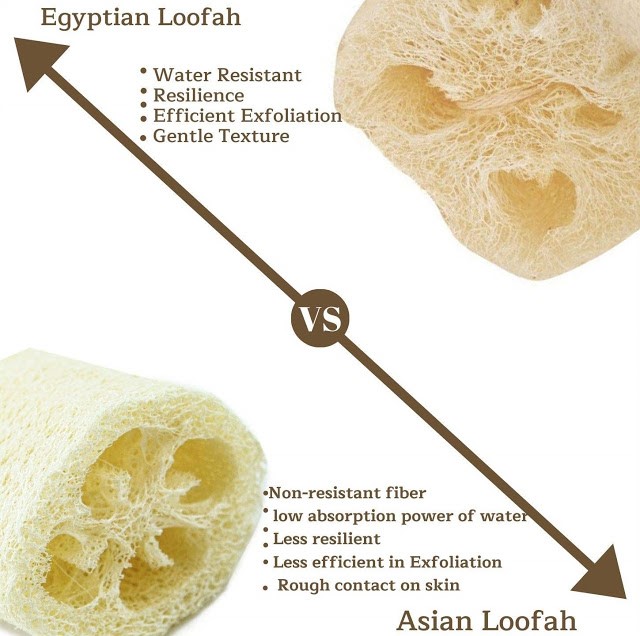 Egyptian Loofah VS Asian Loofah :
There are two types of loofah, Egyptian Loofah and Asian Loofah, and there is a clear difference between the two types in terms of texture and flexibility. The Loofah grown in Asia result in a softer fiber, non-water resistant, less resilient with a poor exfoliating power. But the Egyptian loofah gives a very resistant fiber. When wet, the fiber become flexible and soft. It allows a very gentle contact on the skin while providing a very efficient exfoliation that lasts longer. For the following reasons the Egyptian loofah is highly recommended and used by estheticians, in the SPAs, body care and health centers.
Origin: Egypt 
Packing:  500 Pieces / Pallet ( Compressed) Or upon Request.
Sample: Available. Sample Cost Born By Buyer.
Standards: Whole raw natural loofah.
Sizes: 50 Cm +  & 60 Cm +
Product Code: #101.
Other Names ( Keywords ): Luffa – Lofa – Lefa – Loof – Lufa – Loufa .
French: Luffa
German: Luffa
Spanish: Esponja vegetal
Portuguese: Bucha
Greek: Σφουγγάρι λουφά
Arabic: لوف