Loofah Plant (Loofah Plants)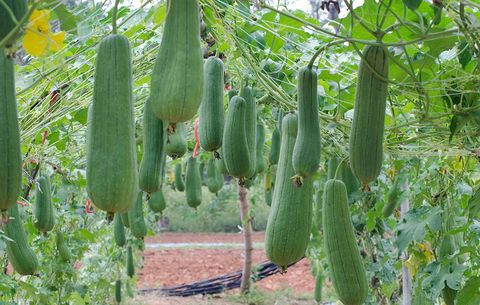 Loofah Plant (Loofah Plants): Loofah, (genus Luffa), also spelled luffa, also called vegetable sponge, sponge gourd, or rag gourd.
genus of seven species of annual climbing vines of the gourd family (Cucurbitaceae), native to the Old World tropics.
Two species (Luffa acutangula and L. aegyptiaca) are commonly cultivated for their fruits,
which are edible when young and have a fibrous sponge like interior that is used domestically for bathing and for washing dishes.
The spongy fruit also has a number of applications as an industrial filter.
Loofah vines are large aggressive climbers with coiling tendrils and unisexual yellow flowers.
The oblong fruits are greenish when young and become straw-colored with a brittle rind when mature.
They are about 30 cm (1 foot) long and feature closely netted vascular bundles throughout,
the complex of which resembles a sponge in texture when the skin, pulp, and seeds are removed.
The plants are cold-sensitive and require a long growing season for the fruits to mature.
The seeds typically are soaked or scarified (i.e., scratched with a knife or file) prior to planting to encourage germination.
Al Remas Trades  Cute Eve Brand Considers One Of The Best Egyptian Loofah Sponge Wholesale Supplier Please Don't Hesitate to Contact Us Or To Start Your Order Now from us .