Premium Exfoliating Loofah Glove Pad Body Scrubber. Our Mitt Gloves are Made of Natural Egyptian Shower Loufa Sponge and Soft Cotton Materials
SHOWER YOUR WAY to healthier-looking skin with body loofah gloves by AlRemas. Lightly textured exfoliating gloves sweep away dead cells to give you a more radiant appearance from head to toe.
LIGHTLY ABRASIVE natural loofah leaves your skin invigorated and more receptive to lotions and moisturizers. The reverse sides have soft terry cloth cotton fabric to remove body oils, dirt and debris.
EASY TO USE exfoliating sponge gloves have sleek design that slip over your hand for optimal maneuverability. Anti-fray edging around the borders with convenient hanging loop to accelerate drying.
FLEXIBLE LOOFAHS bend to the contours of your body. This ensures all-over exfoliation and cleansing. Intelligently sized to fit your hand, AlREMAS shower loofah scrubbies are ideal for men and women.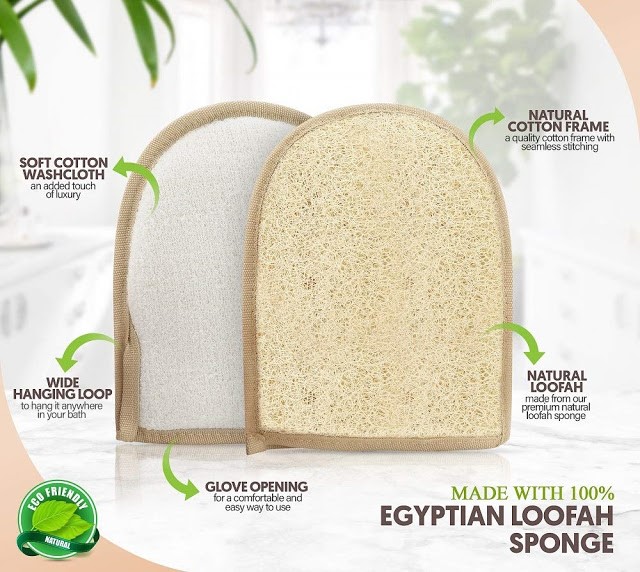 Origin : Egypt
Sizes : 16 Cm × 20Cm
Material : Loofah + Cotton
Product Code : #104
Sample: Available. Sample Cost Born By Buyer.